Συνέντευξη: George Alexandrakis
Wes Naman's photographic series "Invisible Tape" sounds intriguing. It seems like he has a unique and thought-provoking perspective on capturing the human form through photography. By focusing on the distortional and asymmetric aspects of people, he aims to draw parallels to the complexities and diversities found in society. This approach allows the viewer to connect more easily with the subjects as they resemble familiar human figures.
Through his work, Wes Naman likely aims to challenge conventional beauty standards and explore the beauty in imperfections and variations. His photographs might prompt viewers to contemplate the societal norms and expectations imposed on individuals, encouraging a deeper understanding and empathy towards the human condition.
Photography that explores the human form in this manner can be a powerful way to evoke emotions, spark conversations, and prompt viewers to question their perceptions of beauty and identity. Wes Naman's artistic vision appears to be focused on pushing boundaries and inviting viewers to see beyond the surface of appearances.
Through your series Invisible tape, is there any special message you want to pass through?
Actually, no there isn't. A lot of people have asked me if I was trying to make a statement about cosmetic surgery and other things along those lines but no, no specific message at all. I just wanted to make some interesting images that make people question their own idea of beauty but ultimately, it was more for fun and creating something somewhat new in the realm of photography. I had seen a lot of my "competition" and they typically shoot beautiful women or men but their style was very homogenous and I've always wanted to separate myself from the generic photographer
How did this Concept occured?
Honestly, I have a notepad i keep with me with ideas and I had been working a lot of commercial photography at the time and needed to do something different and this was in my notepad amongst many other ideas and at the time it was simple, cheap, way to make some cool images.
Are there any photographers that have inspired you and possibly influenced you?
Primarily Joel Peter Witkin and Gregory Crewdson are my influences.
What is it that you love to any one of them? What details of each one of them excite you more?
I like Joel's work for its raw and unrefined look and dark underbelly. as for crewdson, his attention to detail and narrative is what i love.
What is your opinion on the creation of pictures with complete imprint in the form of revived paintings? The publications for photographers who revive paintings are consecutive, think that the originality and the creation of the raw material is "indigestible" today?
Τhat' s a good question because I have seen many of my images reproduced in paintings/drawings/graffiti from fans all over the world so I think it's quite reciprocal to be honest. I feel there are no new ideas or "pregnant" ideas and most people/artists derive and are influenced by others works so whatever helps achieve your own visions and how you got there, then that's beneficial. In a corporate world, it's great to see others influenced by my vision or me being influenced by them.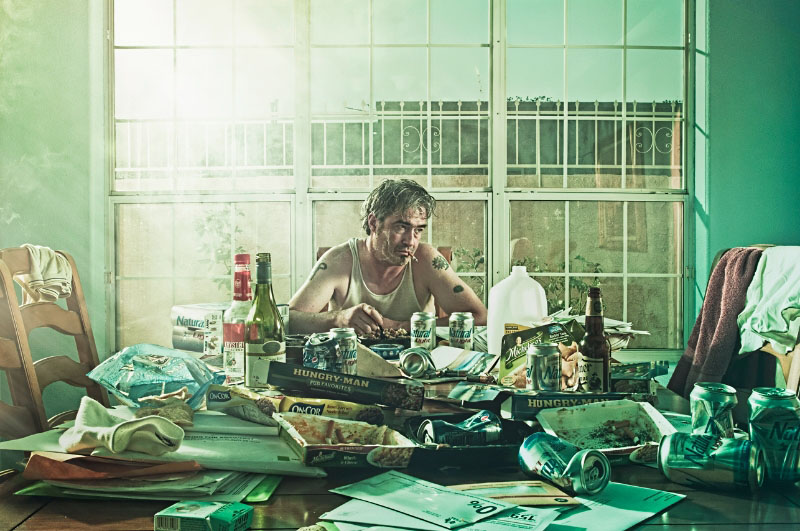 We detected your idea of Invisible Tape, which one of your series do you think that stands out most and for what reasons?
Personally, I love the tape series because it was fun and exciting to shoot but my most favorite series is my Lonely Man series because it actually has a personal vibe to it. I was going through some rough times and I put way more time and effort into making these great, albeit, not the series people would hang on their wall, but to me, it was personal, whereas, my other series were out of fun, and less emotion involved.
What are your future plans?
Well, I have a few ideas that are starting to crown, but I am doing a series of people being hung upside down, then flip the images right side up to give an illusion of gravity and how it works on the human body and whatever props they may have.
Photo courtesy of Photographer