Interview: Amarildo Topalis
She may be keeping her lips sealed on her new project, her past in filmography however is not any secret, as her latest work has received excellent reviews and awards internationally.
Laura Bispuri comes from Italy and her work has always been related to international and timeless themes, such as female freedom and identity, sexuality and love. Her first feature film "Sworn Virgin" is an adaptation of a novel by Elvira Dones and is based on the old Albanian Kanun -derives from the Greek word 'κανόνας'- in which a woman takes a vow to remain a virgin and pretends to be a male, in order to live as a free human in a patriarchal society.
Although the story is based on an archaic law, it seems that little has changed since then, as, according to Bispuri, in many countries of our contemporary world, woman's freedom is a constant struggle for basic human rights.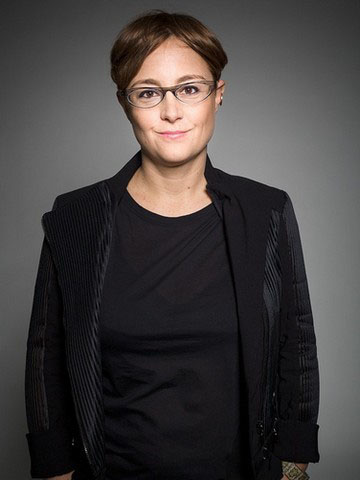 How did you learn about the social phenomenon of Sworn Virgin and what was your first thought, before the shootings began?
When I read Elvira Dones' book, I thought that the reality of sworn virgins was very important because it spoke about the relationship between femininity and identity, femininity and freedom. This original and specific phenomenon of sworn virgins could stand as a universal, contemporary tale. That was my first thought on the story. From this experience, I learned many things that is difficult for me to summarise now; I hope I did it with the movie.
[embedyt] http://www.youtube.com/watch?v=FqepPRFB2MM[/embedyt]
The shooting took place both in Italy and Albania. How was really shooting in Albania? Did you face any difficulties?
I shot the Albanian part of the movie in the albanian mountains (at the border with Kosovo) and the italian part in the north of Italy, in the city of Bolzano. The shooting in Albania was very very difficult because the location was very isolated. Before the shooting, I went to this mountain area many times, over a period of two years. In this period I made friendships with the people of the mountain, I went to all their houses and I spoke with them a lot. So, I managed to create a layered relationship with them. The shooting in Albania was only over two weeks, so it was very difficult too, because of the snow and the cold weather. The snow was a big gift for me and the movie but it was also difficult conditions-wise. I tried to involve the real people of this area in the movie, for some characters and to help us in the work of shooting (scenography, costumes, production…). Also the two main characters -little Hana and little Lila- are from this area, they are sisters in real life who were born and have always lived in this mountain. In any case, this part of the shooting was very adventurous but also very exciting, important and deep for me and the crew.
As a Western citizen, what's your opinion about the way a woman is stated as a man in public, based on the old customary law "Kanun"?
The procedure in which a woman becomes a man is not easy. It is an extreme choice. I have met many sworn virgins of different ages. I have realised that every one of them has different reasons, different stories, different fears and different desires in order to make this choice. For example, when I met the first sworn virgin, I realised something strange about me because when I asked her "why have you decided to become a man if you knew that your life would be one with no love?", she replied "for me, love is death". Her answer was very powerful and sometime later I realised that in this place, the concept of love is very different than in ours. In this place, women are slaves, firstly to their father and then to their husband. So, love is not love. Another sworn virgin, an 80-year-old woman, told me with tears in her eyes, that if she had had the choice now, she might not have done it. But usually the sworn virgins are faithful to their choice.
Don't you feel there is an infringement of Human Rights here?
I think that there are many countries where a woman's freedom does not exist. It's a terrible situation and this problem is even greater in some places but, at the same time, I believe that in many countries where a woman seems to be free, freedom is again really far away. Surely some basic freedoms are missing from this Albanian place, such as, smoking, drinking, walking alone, deciding something, etc, and in this case there are no human rights, however the same goes many times in different and modern situations where I have noticed that women work a lot and their work is never equal to those of men. The female development is always an effort and there is a red line about this in the whole movie.
What's the film directing process like? Where does a director's job begin and end?
I think that making a film is a fight. The biggest difficulty is listening to the people who work with you, and at the same time, remembering the reason for your first choice. So you must be paying attention to the others and you should also listen to you. People can help you but they can also change the main direction line; and that shouldn't change. Apart from that, every director needs to always find out the most important things that each one carries. And he always needs to fight about these.
How did you feel taking part in several international festivals?
The feeling in the festivals was incredible. The movie received a lot of prizes from many different countries and from many different critics. In Italy it was the film with the most prizes this year. After the screenings I met the audience and I saw that the people were very involved with the movie. They wanted to know about the Albanian culture, all about the movie, the characters, the direction… I saw that the universal things in the film reached everyone. I'm very happy for this international development of the movie that is now distributed in the USA too.
Why should we watch the film?
You have to watch the film because it's an important story about freedom.
What are your future plans?
At the moment, I'm working on my next project.