Interviewer: Electra Limniou
Photos: George Alexandrakis Photography
What dynamic has the movement in creative and physical theater? How can the actors respond to it? Froso Korrou comes through an interview to reply to these and more questions based on her knowledge and talent. With full awareness of the reality, she speaks for the necessary training the actors need to reach a good result, but also for the assistance she provides them.
The relationship between Greece and the physical theater, her involvement as a founding member of So7, and the ongoing dialogue which she gets in with the things around her, are some of the topics discussed and you can read in the interview she gave in City Code Magazine.
We could say that "movement" is the main way of expressing sentiments. It's a way of speech. Is it easy for movement to be combined with the actor's interpretation and be a part of it?
Movement is the actor's interpretation. They can't be separated. The speech is getting out of our body. Role's body has to consort with the text of a play, they have to be in dialogue and complement one another. We are not talking about easiness, but concentration and study. From now on, maybe the movement can highlight different qualities of a role, which the rational approach can't reach. In my work, firstly I begin from movement to find out subsequently how this body speaks out.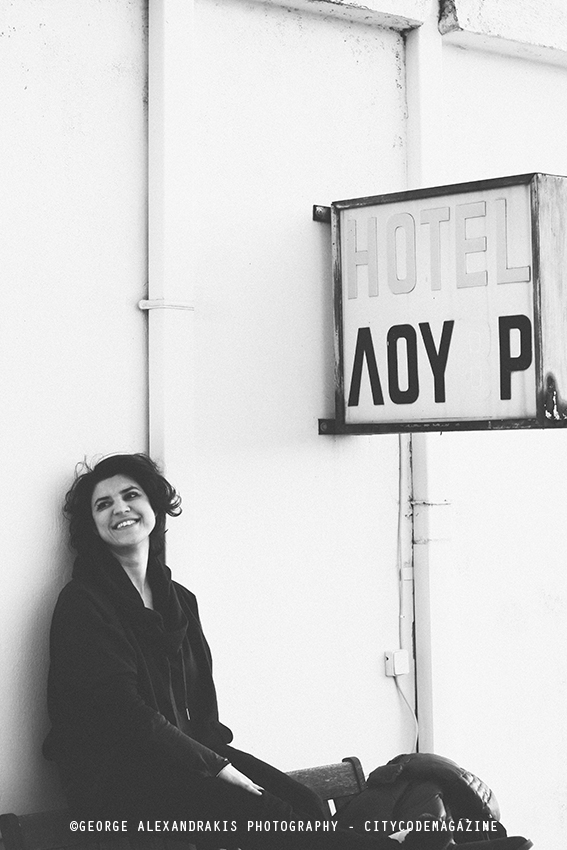 Regarding your studies and your professional experience from all these years, do you believe that movement is an inherent part in actors or can it be proved an acquired attribute and talent?
There are actors of large dimensions, who have introduced ways of movements and they have created schools, such as Chaplin, Keaton and others who without the corresponding recognition, are unique in their movement, such as Logothetidis, Hayworth, Burton and almost all the great Greek actors of old Greek cinema. I see in these cases the inherent talent, the wittiness in movement as an element of creation and learning. My target is that the actors I collaborate with, to give birth to their own unique movement, even if they don't know they can. I certainly use teaching techniques which liberate them, I reveal them paths. After that, they have to work on their own, to make an acquisition what I propose them.
In what way does the body help in the approach and the return an actor can have in a role?
The body helps the role when it is well-trained and well-toned. While teaching in dramatic school I focused in body training. My technique is corresponding with muscle system and eye's addressing. When these are taught, we are going to the chapter named rhythm. During a rehearsal the only thing I ask from an actor is concentration and availability. When the body is open and available, the actor can do whatever is requested to do. Unfortunately, most actors give a little or no importance to their body and I'm not talking about volume, kilos, flexibility or acrobatic skills. I see actors with disabled bodies, untrained. With such a body it is difficult for me to work.
Concerning you have a close relationship with abroad, as you have collaborated with international dance companies, to what extent does Greece promotes the physical and creative theater?
In Greece we have great level actors, much better than many European countries I know. However, here we haven't got the production, neither the means to highlight our actors. This field is very far behind. This is why new actors are forced to make representations with their own means. So, the creative theater is turned on. In education, teachers have come from abroad with studies in physical theater and introduce this very charming language. But as money and organized production are missing, their efforts are not performing as they could.
As a founding member of So7, what are the conditions for an actor to join in your group? Are you addressing only actors (experienced or not) or can artists from different fields have access to your group?
So7, Dimitris Kouroumbalis and me, we make representations. The theater for us is total art, speech, music, and dance to co-create. A requirement to collaborate with an artist is common language, relevance to aesthetic and certainly the needs of the representation in which we aim. We are leaving the rest to the critics.
In 2016, do you believe that there is progress in theatrical studies faculties in Greece hearkening current of the times and developments? Will it be enough for a student only a 3-year or 4-year completion of studies, with a view of joining the profession of actor?
Studies never end. An actor needs constant training, seminars, workshop with other artists, reading, personal work, and of course professional experience acquired over time. The level of study in Athens many times depends on the student's intentions. If they have the dedication and the courage to work hard for what they want to do, then they can gain a lot from their studies, because there are great teachers and great theater experience. But if they lightly enter school, even if many years go by, they will have the same zero result.
Apart from choreographer and founding member of So7, you assumed the custody of actor's movement in shows, such as "Thesmophoriazusae" directed by Sotiris Hatzaki and "Jesus Christ Superstar", which set the target of key issues, such as social status of woman and religion. What excites you in such theatrical challenges?
The theater is a political art, otherwise I find it boring. It reflects the society that gave birth to it, its people, its beauty and ugliness. When the theater wants to stay safe is not my concern. In the performance we create now, entitled "Out limits" at  Ilisia Volonakis theater we investigated in depth the issue of intellectual, moral and social strength. Because today we feel an unbearable pressure yet we endure. How is this done? And once this is done, why I want to talk about something else?
As we approach to welcome 2017, what is the aftertaste that left you the current year and what are your artistic plans for the upcoming one?
I like making representations, I am happy when I have to construct something that I am pleased about it. 2016 was full of creation and thus helped me to stay calm in difficult mess of our country. I hope 2017 to keep me there. I am optimistic because So7 has a very good cooperation with Ilisia Volonakis theater expressed in the creation of beautiful theatrical performances. And as there is good cooperation, we can tackle it all.
Απαγορεύεται η οποιαδήποτε αναπαραγωγή, μερική ή ολική τόσο της συνέντευξης όσο και των φωτογραφιών, χωρίς την γραπτή έγκριση από τo CITY CODE. Ν2121/93