FREMIN GALLERY Grand Re-opening – 520 West 23rd Street – INK STORIES by REKA NYARI
FREMIN GALLERY is pleased to present INK STORIES, an exhibition of new large-scale black and white photographs by Reka Nyari. This suite of 14 works is part of an ongoing portraiture project which Nyari introduced in 2017 with her first solo at our gallery titled "Geisha Ink". This body of work continues to explore a central element of Nyari's practice: intimate studies of self-identity and female empowerment through nude portraiture.
INK STORIES will be on view from February 28th – April 6th with an artist reception held on February 28th from 6-8PM. Please make sure to
RSVP at: info@emmanuelfremingallery.com.
Reka Nyari places her INK STORIES series into the canon of unfettered female imagery with the tales of four women and their response to struggle and pain. The intricately woven threads of ink on their skin empower their spirit as acts of defiance, vows of power, and emblems of transformation of the mind through the physical body.
GEISHA INK is embodied by Ginzilla, a young woman born into a traditional Japanese family of uncompromisingly strict conservative-values. The effect was suffocating to her wild heart, engendering acts of rebellion perhaps most visible as the arresting marks of defiance, written in permanent-ink on the canvas of her body. These images tell the story of her life; illustrations of tigers, wolves, and dragons contrast societal expectations of female submission and obedience. Ginzilla's first lover was a tattoo artist, a predilection which has guided her sexual journey. All of her body-art was composed and executed by lovers, compounding its personal meaning to her, while forming an illustrative map of her life.
VALKYRIE INK traces the compelling story of Eowyn, a resilient and rebellious young woman, who endured emotional and physical pain since childhood. Inextricably linked to the story of her difficult life, this series portrays her brave spirit and her marked skin, which both bear the scars of her past and the signs of her resistance. In an act of strength best understood as "putting on her own skin," of arming herself, Eowyn adorned her body with a shield of tattoos. The titillating lines, undulating images, and powerful words that cover her skin are marks of their bearer's bravery, and evidence of her insubordination. The ink is who she is, desires to be, and who she has become.
With disquieting ambiguity, set in a scene reminiscent of the religious Nursing Madonna motif, THE MOTHER INK edges in and out of the portrayal of the protagonist as a nurturing mother and a brave, empowered, sexual being. Leah, who grew up in a small town surrounded by uniformity and averageness, was inspired by music, books, and stories of rebel women in faraway lands. She started to transform her outer shell to reflect the extraordinary she felt on the inside. An otherwise inspiring time in New York also brought with it a traumatic and abusive relationship. Being pregnant with her son, she developed the extraordinary strength to leave and become a single mother at a young age. Inspired by the love for her child and the defiant symbolism on her skin, she returned back to her small hometown to heal and to raise her son. The lush opulence of the scenes, of a woman who has transmuted suffering into the story of love, healing and devotion, carries in the subject of the Virgin Mary.
The most recent iteration of the INK SERIES portraits Julie, in REAPER INK. She was born the grandchild of an atrocious, barbaric man, who raper and murdered without consequences. Julie's mom took her children away and raised them out of the demon's reach. However, Julie grew up with the looming knowledge of murder and abuse left unpunished. She developed a deep spiritual connection to her environment, leading to a very simple life off the grid in Joshua Tree. She is a medium and, according to herself, speaks with the spirits and the dead. Tattooing, first a means to make money while travelling the world, became her therapy, as she realized that she could cover the scars on her body with luminous symbols and shapes, turning darkness into light. Overcoming abuse, chronic pain, and self-destruction, her tattoos are not decoration, but healing emblems, cathartic creations that transform the person, inside and out.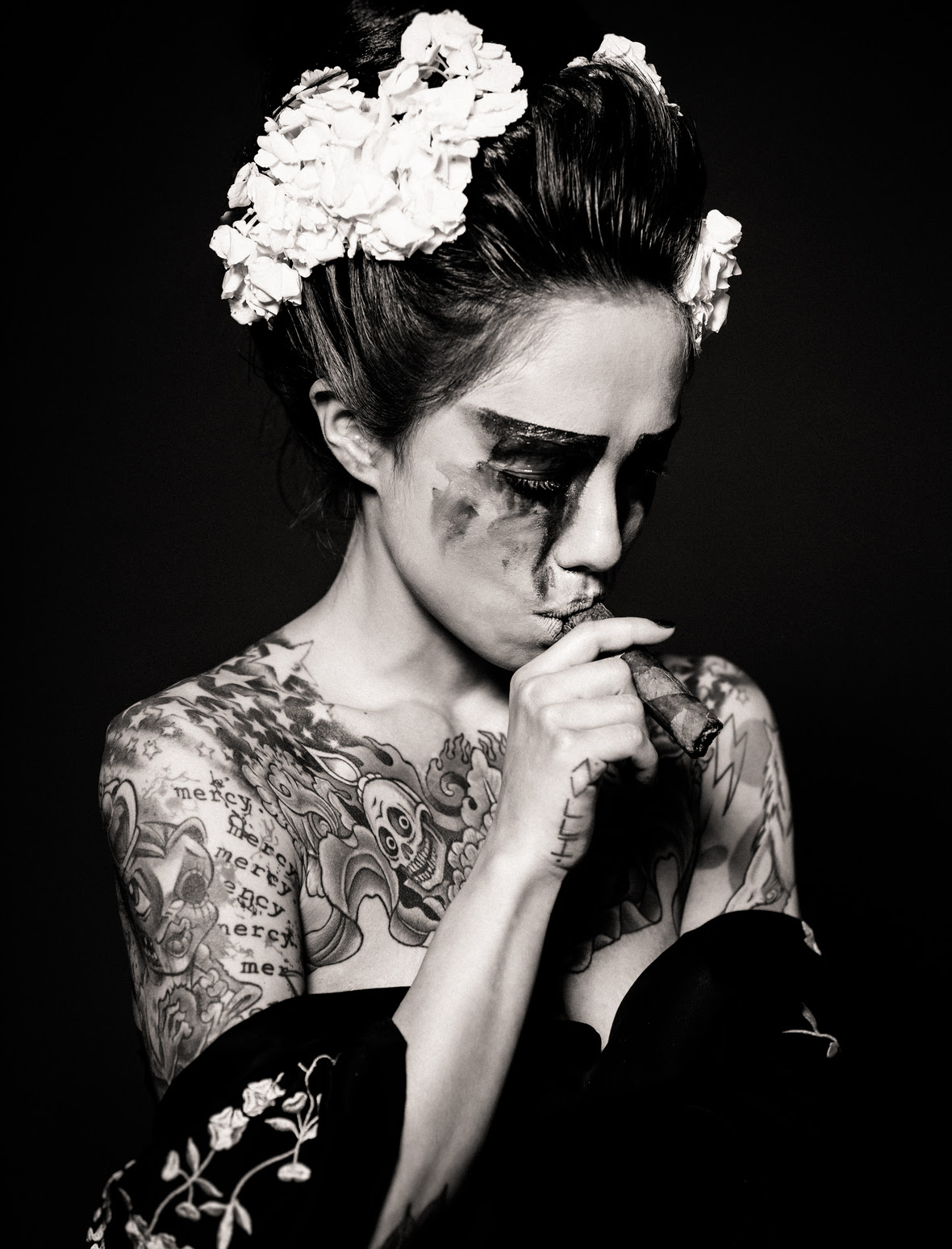 REKA NYARI joins these women together as a clear clarion call of independence and power. While Nyari explores the creation of a strengthened self-image through tattoos, the scenes which the artist invents often transcend into the realm of discomfort, of unease. Nyari constructs a storyline around her heroine, thus proposing that self-empowerment and reconciliation with one's traumas is inextricably linked to the creation of a personal mythos — it is the act of creating one's own skin, of inventing one's own story.
The resulting photographs are nuanced portraits of a female warriors and muses, composing a story of strength and transformation, and of the over-enduring female spirit. Nyari's sensitive portrayal of her subjects scars and adornments, both understood as physical manifestations of the heroines abuse and resilience, carry an inspiring combination of vulnerability and courage. Addressing the complex facets of body art, Nyari makes her subjects tattoos understood as symbols of vigor and triumph.
Photo courtesy of the Gallery